How long does it take to complete this program?

Applicants will have three years from their application approval date to complete all their board certification requirements. On average, most of our members are able to complete their program requirements in six to nine months.
I'm new to healthcare and do not have the required education/experience yet. Can I still apply?

Yes. The ACMPE board eligible classification allows candidates to enter the board certification program even though they may not yet meet the requirements of the Bachelor's degree or the two years of healthcare experience.

After application approval, you can begin logging your continuing education (CE) hours and studying to pass the multiple-choice exam to become board eligible. With board eligible status, you can start working toward your Bachelor's degree or 120 college credit hours and two years of healthcare experience. Once you've satisfied these education and experience requirements, you can then register to take the scenario-based exam. Board certification will be achieved when board eligible candidates pass the scenario-based exam and meet the required CE credit hours.


What types of material will this program cover?

Group practice management is unique, and the profession's nuances make it unlike any other. That's why the Body of Knowledge (BOK) for Medical Practice Management is so essential to success. It serves as a repository of industry knowledge, a guide to practice management, an assessment of competency and a learning tool.

The six domains of the BOK include: Operations Management, Financial Management, Human Resource Management, Risk and Compliance Management, Transformative Healthcare Delivery and Organizational Governance. Visit our BOK information pages to see the performance objectives of each domain.
What are the exam requirements?

After applying and receiving program acceptance, applicants must demonstrate mastery of the principles outlined in our Body of Knowledge (BOK) for Medical Practice Management by completing two exam requirements:


Multiple choice exam - This 175-item, multiple-choice exam assesses your on-the-job knowledge of the broad scope of group practice management principles and practices as described in the six domains of the BOK.
Scenario-based exam – This exam may only be taken once you have logged two years of healthcare experience and earned your Bachelor's degree or 120 hours of college credit. The 90-item exam assesses in-depth knowledge of medical practice management principles, problem-solving and decision-making skills a candidate would need to handle and resolve real-world medical practice issues through 18-25 scenarios.

Exam registration periods for each exam are held quarterly but beginning on March 1, 2020 you will be able to register for exams on-demand and receive notice to schedule in 24 hours. Exam registration will be eligible for one year from purchase date before expiring.

View exam competencies



How do I meet my continuing education (CE) requirements

You can start earning CE 30 days prior to your application acceptance date of either pathway through a variety of qualifying activities. CE credit can also be earned during your exam preparation and after passing the exams.

We require that your 50 hours of CE include 30 hours from MGMA state, local, and national learning, including at least 12 live hours. The remaining 20 hours may come from either MGMA or qualified outside sources starting once your application is accepted, backlogging up to 30 days prior to your acceptance date. This will also apply to the 50 hours of CE required every three years to remain certified.



What is the cost of the program?

Membership & application fees: In addition to the cost of your ongoing membership with MGMA to maintain your credential, the board certification application fee is a one-time cost of $250. If you are not already an MGMA member, there is an option to join at the same time for a $100 savings. If for any reason, you are not accepted to the program, the application fee will be refunded to you.

Exam fees: The two required exams cost $167 per exam.

Study resource costs: You can find a variety of free and low-cost study resources in the ACMPE study resources library.

Contining education (CE) costs: To earn and maintain your required CE hours, MGMA regulary offers both complimentary and fee-based courses, webinars and conferences for members to easily meet their ACMPE credit hours.
What resources are available to me through this program?

MGMA offers a free, quarterly ACMPE board certification preparation webinar series to help walk you through the requirements and study for your exams. You can also find additional support materials in the ACMPE study resources library. Additionally, our certification team is always available to you, as is a dedicated MGMA ACMPE member community discussion group.



Does having this certification increase my earning potential?

Though we can't guarantee increased earning potential, a significant advantage in compensation has been reported by certified MGMA members according to survey data from the 2019 MGMA DataDive Management and Staff Compensation.



| | |
| --- | --- |
| Difference in Total Compensation between ACMPE Certification and No ACMPE Certification | |
| Executive Management Positions | $13,690 |
| General Management Positions | $9.627 |
*Not enough data to report for Senior Management positions.

WHAT HAPPENS AT THE END OF THE THREE-YEAR CYCLE FOR CMPE AND FELLOW RECERTIFICATION?

Once you meet the requirements for recertification, you do not need to pay a fee and you do not need to notify MGMA. You will automatically be enrolled into the new three year cycle after the current cycle has closed. You will receive confirmation of completing the requirements at the end of the cycle.
Apply Now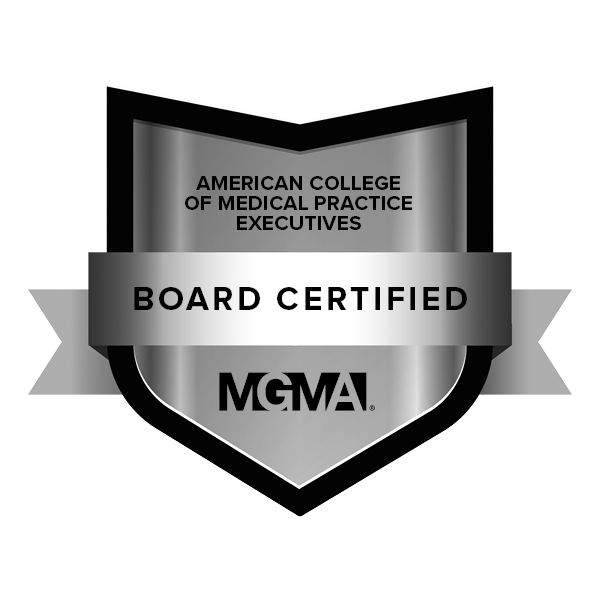 Interested in ACMPE Certification?
Ready to raise your profile? Learn more about how to apply and become Board Certified through ACMPE.
Learn More >


Questions?
We welcome any questions you may have about starting your CMPE pursuit. We're available M-F 8:00 am - 5:00 pm MT.




Nikki Klaus
Certification Manager
303.799.1111, ext. 1259
acmpe@mgma.com
---