MGMA Community

The MGMA community is the place to connect with peers, learn from experienced professionals, and join the discussion.
It's a great resource for everything in your healthcare career, and it's exclusively for MGMA members.
The MGMA Member Community is designed to be a virtual (online) meeting place for MGMA and ACMPE members. The Member Community provides a place for you and your colleagues to interact and collaborate on shared common interests, medical specialty practices, administrative best practices, new state/federal policies, and more!
Here are just a few of the many benefits:
Join the communities relevant to your own role in healthcare and learn from other professionals facing the same challenges that you encounter every day.
Get advice from seasoned mentors including both community members and the MGMA team.
Participate in study groups and learn about volunteer opportunities.
Read articles and resources in the Community Library.
Stay on top of regulatory proposals and news from our Government Affairs team.
Get regular updates of new posts in your favorite discussion groups so you don't miss a thing.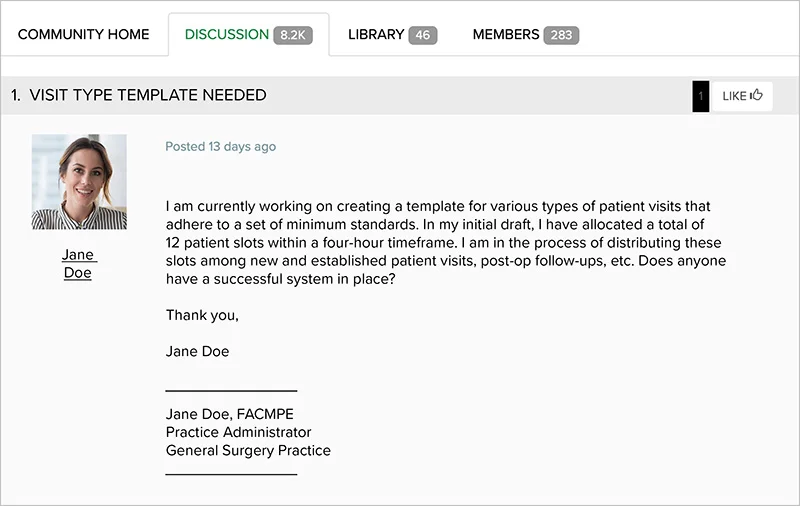 On the MGMA Member Community, you can ask questions of your peers and share your own knowledge with the group.
---
Already a member? Get started now.
Login Assistance: If you're a member, but you haven't created a new password for mgma.com since February 2018, please contact the Service Center at 877-275-6462 ext. 1888 for help.
Not yet a member? Join MGMA now and join the discussion!