Despite innovation to recover from the COVID-19 pandemic, medical practices across the United States still face an uphill battle in a challenging environment for getting the right staff and managing rising expenses.
The 2023 MGMA DataDive Provider Compensation data set reveals modest gains in physician and advanced practice provider (APP) productivity and compensation in 2022, as staffing shortages were a key hurdle to higher productivity for most healthcare providers.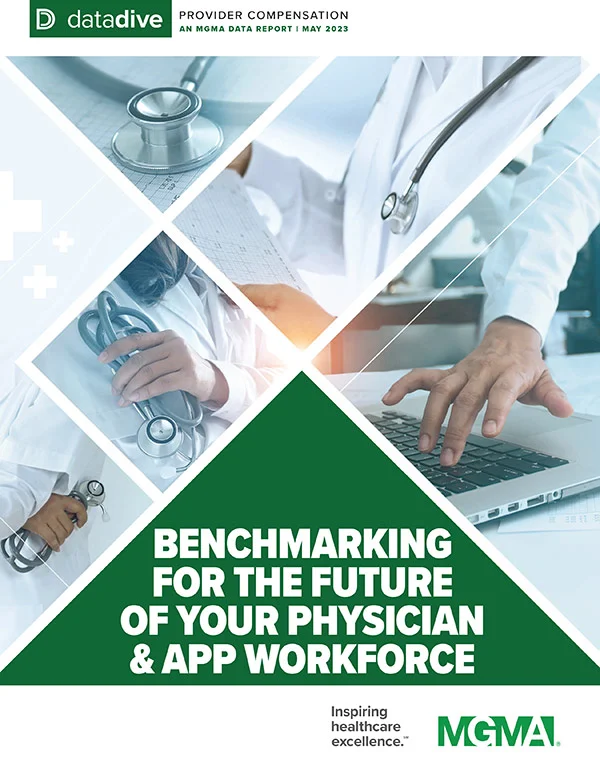 In our new data summary report, Benchmarking for the Future of Your Physician and APP Workforce, key trends and benchmarks from MGMA DataDive are examined through the lines of recent MGMA Stat polling and research, as well as expert insights from leading consultants to give an up-to-date and comprehensive picture of the compensation landscape, with metrics to help healthcare leaders budget and build compensation models that will recruit and retain the physicians and APPs of the future.
Key insights from the report:
Productivity remained relatively flat or only slightly increased relative to pre-pandemic benchmarks, with the biggest change in work RVUs posted in dermatology, hematology/oncology, and family medicine (without OB).
The growth in median total compensation for primary care physicians (PCPs) doubled from 2021 (2.13%) to 2022 (4.41%), but was outpaced by inflation at 7% and 6.5%, respectively.
Surgical and nonsurgical specialists saw their change in median total compensation cool slightly in 2022, dropping from 3.89% for surgical specialists in 2021 to 2.54% in 2022, and from 3.12% for nonsurgical physicians in 2021 to 2.36% in 2022.
APPs — who saw the biggest change in median total compensation from pre-pandemic levels — saw their 2022 growth ebb slightly to 3.70%, down from 3.98% growth in 2021.
Complete the form on this page for free access to the full summary report. If you're already an MGMA DataDive subscriber, log in to take advantage of the new data set and its new specialties, filters and features for 2023 — including the ability for Organizational Members to clone reports year over year.
Click here to learn more about MGMA DataDive Provider Compensation.
---